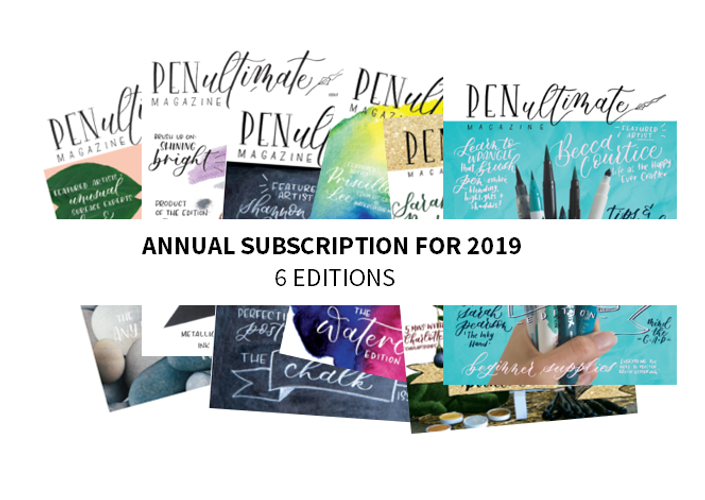 2019 Annual Subscription
Issues 9, 10, 11, 12, 13 and 14
Penultimate Magazine has now concluded after 14 issues. We thank our subscribers for joining us on this journey over the last 2.5 years - thank you!


---
Wanna sort yourself out for 2019 and save 50% while you're at it? Grab an annual subscription!
This subscription includes all 6 magazines that will be released in 2019: Issue 9, 10, 11, 12, 13 and 14.
Release dates:
Issue 9 (January 2019)
Issue 10 (March 2019
Issue 11 (May 2019)
Issue 12 (July 2019)
Issue 13 (September 2019)

Issue 14 (November 2019)
Upon subscribing, you'll be able to login to your account to access all 6 editions from 2019. Make sure you're logged in and looking under 'My Courses'.
FAQ
Is Penultimate a printed magazine?
Nope. Penultimate Magazine is now a fully digital magazine. Issues 1-8 are plain PDF files, but from Issue 9 onward (such as all the mags included in this subscription) we have more dynamic content in addition to the PDF magazine, such as downloadable files, video interviews, video demos and more! You will not receive a printed magazine.
...Can I print the magazines?
Yes, you can! You are entitled to print ONE copy of each magazine once purchased. When you login to your account and access the mags, there will be a little download link under the box you view them in so that you can save it to your device, and either read it in your own PDF reader, or print yourself a copy.
How do I access the magazines?
Once you 'enrol' (or purchase) the subscription, you'll be prompted to either create an account or login to an existing Teachable account you have. During the first week of January, March, May, July, September and November in 2019, a new edition will appear under your '2019 Annual Subscription' course, located in your 'My Courses' (menu in top right corner of screen).
How long do I have access to the magazines?
Once they're released, for as long as the internet exists!
Is this a subscription?
Sure is! This subscription is for all 6 editions of 2019, that rewards you with 50% off regular pricing for subscribing. Payment is upfront, not over a payment plan. You can find single issues on the homepage.
Are refunds available?
Sorry, no. Due to the digital nature of the magazines and the instant access, we are unable to offer refunds once you've accessed the material. If at any point you wish to cancel your digital subscription, please contact Emma at [email protected] to discuss options. You will not be refunded for any editions already received.
Penultimate Magazine/Black Chalk Co reserves the right to cancel your annual subscription before it's completion with no refund if it is found that the customer has violated Copyright terms and conditions or for any other reason deemed necessary by Penultimate Magazine/Black Chalk Co. Please consider before purchasing.
Who can I contact if I have any questions?
Our editor, Emma! [email protected] - Emma will try to help you with your query, however, if it is something technical related, we may have to refer you to Teachable.
*Picture for illustrative purposes only - 2019 subscription does not include the editions pictured*