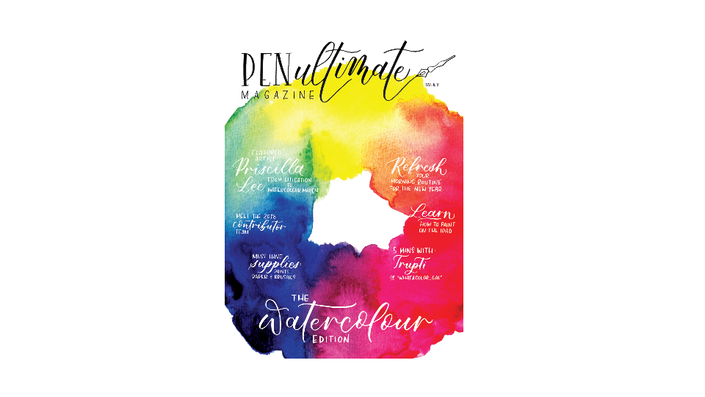 Issue 3: The Watercolour Edition
January 2018
Penultimate Magazine is a magazine for lettering artists, produced BY lettering artists. Penultimate comes out on a bi-monthly basis and has a new theme each edition - from brush pens, to pointed pens, to watercolour and more. The magazine includes interviews with artists, product recommendations, reviews, how-tos, tips and tricks, insider info, community events and workshops and much, much more!
---

ISSUE THREE is watercolour themed! In this edition, we take you through all the important things you need to know to get started with watercolour - including paint options, paper options, brush options and how to set up a palette. We sit down with Priscilla Lee of @ByPriscillaLee who tells us all about her transition from calligraphy to watercolour. We also spend 5 minutes with Trupti of @whatacolor_gal whose Misty Pines are taking the internet by storm! Jen helps us brush up on our morning routines to help set us up for creative success, and we feature guest articles from watercolourists on topics like watercolour typography and watercolour on a budget. We review Winsor and Newton professional series watercolour in detail, and share with you our favourite watercolour techniques, tips and tricks. Karin from @ipadlettering even shows us how to make watercolour art on the iPad! We also have some lovey-dovey words under our Challenge pages for you to trace and practise in time for Valentine's Day.
---
This is a DIGITAL version of the magazine which will be made available to you in your account immediately after purchase - you will not receive a physical copy.
This is for ONE EDITION only. This is not a subscription. It is to read Issue Three of Penultimate Magazine. Please check the homepage for subscription options.
Penultimate is a BI-MONTHLY magazine, which means it comes out once every 2 months (so, 6 times per year)
**due to the image-heavy nature of this Magazine, the file size is quite large. You can read the magazine online, but to avoid blowing your data, make sure you're connected to wifi before downloading a copy to your device**
FAQ
Is Penultimate a printed magazine?
Nope. Penultimate Magazine is now a fully digital magazine. Issues 1-8 are plain PDF files, but from Issue 9 onward we have more dynamic content in addition to the PDF magazine, such as downloadable files, video interviews, video demos and more! You will not receive a printed magazine.
...Can I print the magazine?
Yes, you can! You are entitled to print ONE copy of the magazine once purchased. When you login to your account and access the mag, there will be a little download link so that you can save it to your device, and either read it in your own PDF reader, or print yourself a copy.
How do I access the magazine?
Once you 'enrol' (or purchase) the magazine, you'll be prompted to either create an account or login to an existing Teachable account you have. Once purchased and logged in, the Magazine will be under 'My Courses' (menu in top right corner of screen).
How long do I have access to the magazine?
For as long as the internet exists!
Is this a subscription?

Nup, this is for one edition of the magazine. You can find subscriptions on the home page.
Are refunds available?
Sorry, no. Due to the digital nature of the magazine and the instant access, we are unable to offer refunds once you've accessed the material. Please consider before purchasing.
Who can I contact if I have any questions?
Our editor, Emma! [email protected] - Emma will try to help you with your query, however, if it is something technical related, we may have to refer you to Teachable.